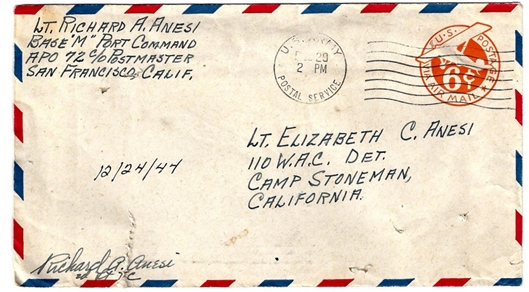 This is a moving letter written on Christmas Eve, 1944, in the Philippine Islands, presumably Leyte.

Page one: Richard talks about arrangements for a party and his intention to attend midnight mass. Mentions he has not received the pajamas Elizabeth sent him but could not use them under current circumstances anyway.

Page two refers to a story my Richard often told of Elizabeth's catching a catfish in the Sacramento River. When it emerged from the water, she was so terrified of its hideous appearance she shrieked and ran to the car.

Page three mentions that it is getting dark and the letter must be finished, as an attack (presumably an air raid, though this is not totally clear) is expected. Richard seems confident the "reception committee" can deal with it. He then wishes Elizabeth happiness, as she is among strangers for Christmas

On page four, we are informed that a truckload of beer has arrived.

On page five, Richard continues his wishes for Elizabeth's happiness. He mentions a dance that he does not plan to attend because it is hard to dance in boots, etc.

The letter closes on page six with Richard promising to devote his life to making Elizabeth happy.